LivEco was established to deliver homes which exceed customer expectations as well as government targets. We have been leading exponents of ecological and low energy house building, refurbishments and retro fits for many years and have a portfolio of high quality homes and satisfied customers. Our developments are designed to be future proof and provide tomorrow's standards today. 
The project at Great House Farm has been designed by Gillard Associates from the beginning and they have used their vast experience in Sustainable Architecture & Design to make it such a great success.
We are especially proud that our work at Great House Farm has been recognised by Constructing Excellence in Wales - we received the coveted 2014 award for Sustainability - our Legacy.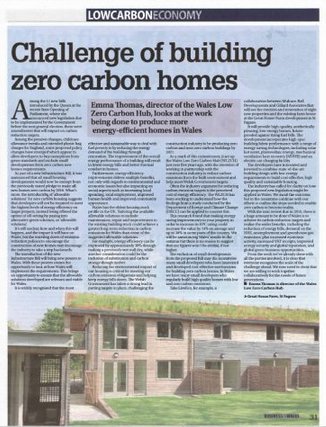 Article in Business Wales and Western Mail, July 21st 2014
---
About us

Daniel Ball worked in Finance in London before moving into the Construction Sector and back to his 'green roots' in Wales. Having been converted from standard construction to sustainable technologies he is now an avid supporter of greener builds and passionate about providing better designed homes at affordable prices. Being a SME residential developer he is a vocal supporter of the 'small sector' and for the need for varied and quality bespoke architecture in our living environment. He feels that new home buyers are forced to accept sub standard design and build quality when buying their homes from large developers as they are not able to see what can be offered by smaller companies at affordable prices – good quality architecture is not only for multi million pound properties on Grand Designs! He has tried to prove this concept at Great House Farm in Cardiff, an award winning scheme where homebuyers enjoy low fuel bills and well being in one happy place!